A homeless kitten was found wandering the streets and taken in by a local animal control service. The kitten had been born with various physical deformities, including an open fontanelle and cleft lip, which were suspected to be caused by hydrocephalus according to a veterinary examination. The animal control service was worried that the kitten would not survive without proper care, and Tonis Kitty Rescue, a non-profit organization, quickly stepped in to save the kitten and give him a second chance.
The kitten was a happy and playful little creature, despite his physical challenges, and the volunteers at Tonis Kitty Rescue soon realized that his neurological condition required specialized care. That's when they reached out to Amber Rose, the founder of Saving Grace Rescue, for help. Amber was already fostering a special needs kitten named Pug and was happy to take in the kitten as well.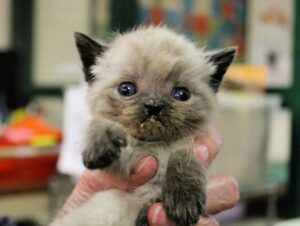 Last Tuesday, Joyce, a volunteer with Saving Grace Rescue, officially adopted the kitten. As soon as he arrived in his new home, he started purring and making everyone smile with his loud rumbling. Despite his physical challenges, the kitten is a charming and lovable little creature who loves to cuddle and be around people.
"He is such a sweet and affectionate kitten," says Joyce. "He has a loud purr and always manages to put a smile on our faces."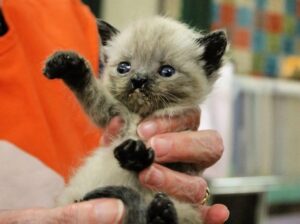 When the Pug arrived at the animal shelter, he weighed only 450 grams due to severe dehydration and malnutrition. Despite his rough start, he was a sweet and affectionate kitten from the beginning. According to Amber, a veterinarian at the shelter, kittens with hydrocephalus can have a good quality of life if their condition is not too severe.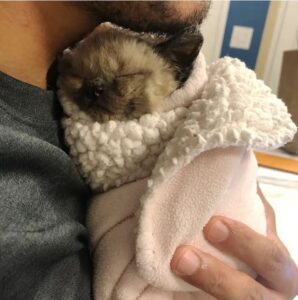 The Pug has exceeded all expectations in terms of growth and development. Before coming to the shelter, he had to be fed through a syringe, but now he is able to eat on his own without any assistance. Everyone involved with his care is optimistic that the Pug, like many other kittens his age, will have a happy and fulfilling life full of new experiences.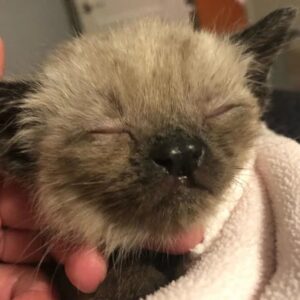 When he's not cuddled up with his foster parents, the Pug is busy exploring his surroundings, frolicking, or searching for a playmate to roughhouse with. He recently made a new friend at the shelter, a special cat named Moxie, and the two quickly formed a close bond. Despite Moxie's hip fracture and the Pug's hydrocephalus, the two are always happy and playful together.
In just a few short days, a touching friendship developed between the two felines. They love to play tricks on each other, but they also love to sleep and cuddle up together. Their bond is heartwarming and shows that even animals with special needs can have a happy and joyful life.