Lisianne was spending time in her yard one summer day when she noticed a black, fluffy stray cat roaming near her house in Quebec, Canada. The cat, which was part of a colony of strays in the area, appeared to be hungry, so Lisianne offered it a bowl of food and water. She named the cat Usagi and the two began a routine where Lisianne would provide food for the feline. Over time, Usagi became more and more comfortable with Lisianne's presence and started to trust her.
As the days went by, Lisianne noticed that Usagi's belly was starting to grow and soon realized that she was pregnant. Despite giving birth outside, Usagi continued to come back to Lisianne's house for food. After several weeks, Usagi decided it was time for her and her babies to meet their benefactor. The feline brought out each of her six kittens, one by one, to be introduced to Lisianne. The kittens, who were only 6 weeks old, looked like miniature versions of their mother and it was clear that they all needed help.
Lisianne welcomed Usagi and her kittens into her home and contacted the local rescue group, Chatons Orphelins Montreal. They were taken to the shelter where it was discovered that Usagi had sought help just in time. The kittens were suffering from conjunctivitis and had difficulty breathing, but with proper treatment, their health quickly improved. As they recovered, they started to become more comfortable around humans. Lisianne decided to keep Usagi and get her spayed, while one of her friends adopted one of the kittens.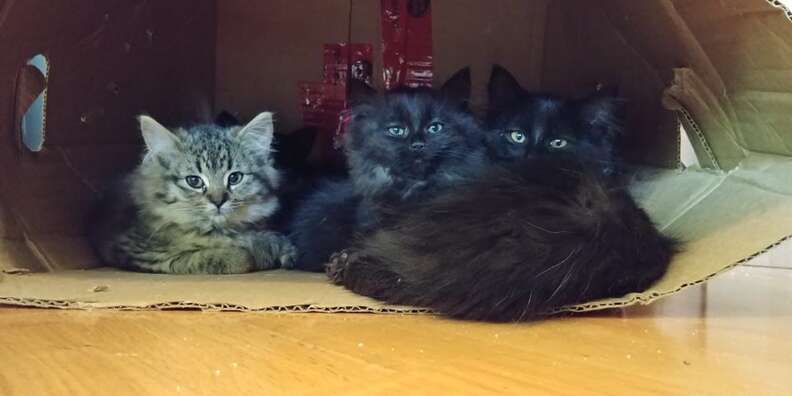 "Chatons Orphelins Montréal stated that the kittens were initially shy and in need of socialization. However, through their experiences, they started to build trust and come out of their shells. These adorable little ones now love to play and have fun together."
"The remaining five kittens are now ready to find their forever homes and due to their nurturing mother who took a chance on them, they will have the opportunity to live the rest of their lives in comfort and happiness."