"Cristiano Ronaldo has the opportunity to reach his first final with his new club team, Al Nassr, as they face off against Al Ittihad in the Saudi Super Cup semi-final on Thursday. Ronaldo made his official debut for Al Nassr in a 1-0 victory over Ettifaq last Sunday, playing the full match. The focus now shifts to the first piece of silverware available in the Saudi season as Al Nassr aims to secure a spot in the final."
"The Saudi Super Cup, similar to the Spanish Super Cup, is held during the midseason and features the winners and runners-up of the previous season's Saudi Pro League and King Cup participating in a four-team tournament held in Riyadh. Two semifinals are held on Thursday, with the final scheduled for Sunday. Since Al Hilal won the Saudi league and also finished as runners-up for the King Cup last season, the vacant slot in the Super Cup was filled by the next best finisher in the league (3rd place), which happened to be Al Nassr. The winner of the Al Ittihad vs. Al Nassr semi-final will face the winner of the other semi-final between Al Fayha and Al Hilal. The final will be held on Sunday at King Fahd International Stadium at 9:00 pm local time (6:00 pm GMT / 1:00 pm ET)."
"The Super Cup semi-final match between Al Ittihad and Al Nassr will begin at 9 p.m. local time at the neutral venue of King Fahd International Stadium in Riyadh, Saudi Arabia."
"The Saudi Super Cup match between Al Ittihad and Al Nassr will be streamed on the Arabic platform Shahid around the world, however, it is not currently listed among its upcoming sports events. Additionally, Saudi broadcaster SSC has also live-streamed select matches on its Twitter handle, and depending on the region, this could be another way to view the match."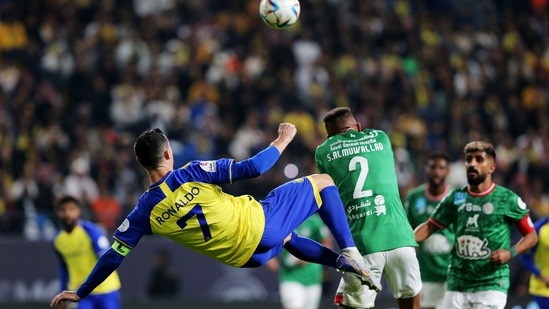 "According to LiveSoccerTV, some European countries will have local broadcasters airing the Super Cup semi-final match between Al Ittihad and Al Nassr. DirecTV Sports will also broadcast the match in Spanish-speaking South American countries, and DirecTV Sports Caribbean will do the same for the Caribbean region."
"The Al Ittihad lineup (4-2-3-1) is expected to be: Marcelo Grohe (GK) – Muhannad Alshanqeeti, Ahmed Sharahili, Ahmed Hegazy, Zakaria Al Hawsawi – Bruno Henrique, Tarek Hamed – Romarinho, Igor Coronado, Helder Costa – Abderrazak Hamdallah. Manager Nuno Espirito Santo has a regular starting lineup pending player availability. Egyptian Tarek Hamed and Brazilian Bruno Henrique typically form the defensive midfield pairing, with Leeds United loanee Helder Costa and Brazilians Igor Coronado and Romarinho forming an attacking midfield trident behind veteran Moroccan striker Abderrazak Hamdallah.
As for Al Nassr, starting goalkeeper David Ospina is out with injury. It is unclear if manager Rudi Garcia will opt for Amin Al-Bukhari or the younger Nawaf Al-Aqidi, who got the nod in the last league match. He could also give a debut to newly acquired Argentine goalkeeper Agustin Rossi, who arrived on loan from Boca Juniors."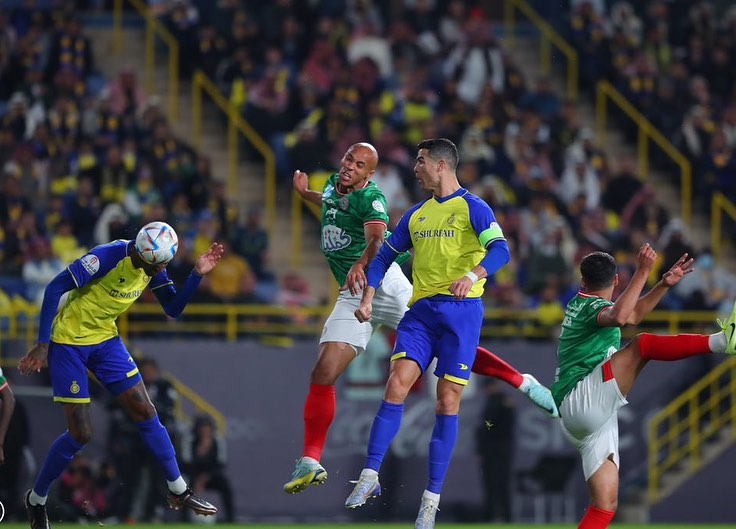 This passage appears to be suggesting a potential lineup for a soccer team named Al Nassr, with players from Saudi Arabia, Spain, and Ivory Coast potentially starting in specific positions. The formation mentioned is a 4-2-3-1, with specific players named for each position including a goalkeeper, defenders, midfielders, and forwards. The team would also feature a player named Ronaldo as the center forward
This passage is discussing the history of the Saudi Arabia Super Cup competition. It has been held since 2013 and the format has changed over time. The most successful team in the competition is Al Hilal, who has won three trophies. The format for the 2022 edition has been changed to a four-team tournament, similar to the format of Spain's Supercopa. The winner and runner-up from both the previous season's Saudi Pro League and King Cup will play in the semifinals, followed by a final a few days later.